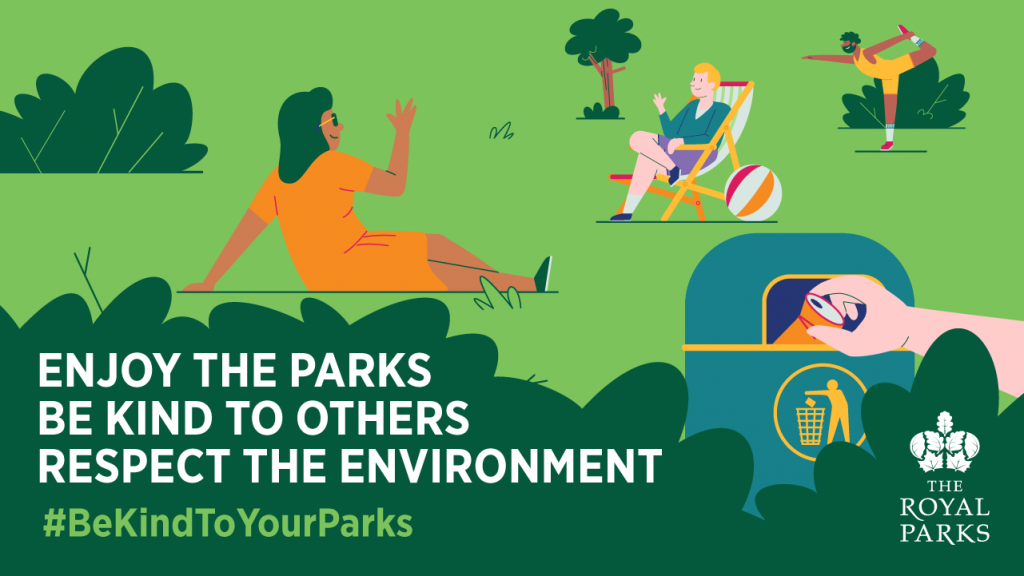 During the lockdown the Royal Parks (TRP) kept their parks open, providing a boost to wellbeing, both physically and mentally and a lifeline to many.
We're seeing more people coming to the parks with many people citing a new-found appreciation of nature – which is great!
The lockdown saw an unprecedented rise in litter which can harm wildlife and spoils the parks for others.  In addition it's taking TRP staff of hours to clear away each month.  Indeed, this antisocial behaviour resulted in two gates being closed in one of the parks for a period of time to prevent antisocial behaviour which was detrimental to the parks, wildlife and visitors.
As the lockdown is eased, it makes sense that people can enjoy our incredible green spaces; that's what they are here for, whether it's to recharge batteries, to keep fit, or to enjoy time with friends and family.
But TRP are asking everyone for a bit of help to keep the parks incredible places to visit with three simple messages:
Enjoy the parks – they're here for you
Respect the environment – Please bin litter or take it home and treat the wonderful wildlife, trees and plants within as the wonderful things they are.
Be kind to others – spare a moment to be considerate to other users so that everyone has a great visit
See https://www.royalparks.org.uk/home/bekindtoyourparks for more on this.